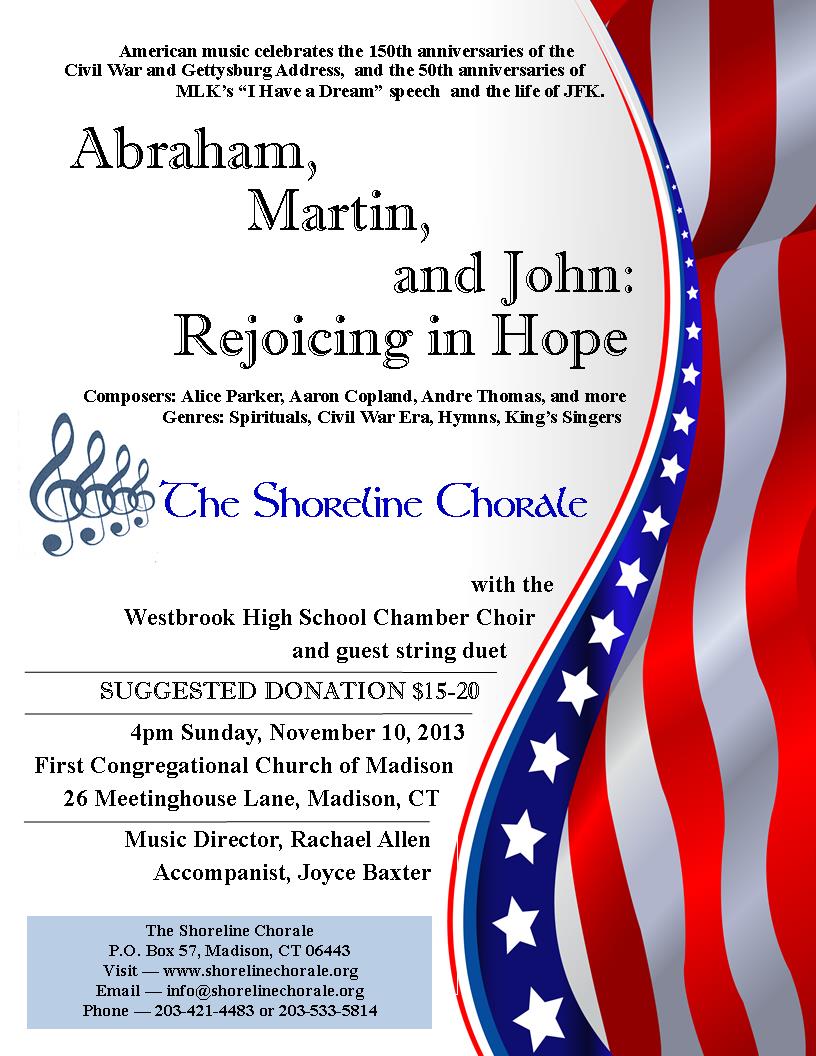 Fall Concert
Abraham, Martin, and John: Rejoicing in Hope
Sunday, November 10, 2013, 4 pm
First Congregational Church of Madison
26 Meetinghouse Lane
Madison, CT
The concert theme will be American music centered on the 150th anniversary of the Civil War, the 150th anniversary of the Gettysburg Address, and the 50th anniversary of the assassination of JFK. The program will be performed in collaboration with the Chamber Choir of Westbrook High School.

Past Programs
Singing by the Sea - Spring 2013 - Celebrating 30 Years of the Shoreline Chorale with Trumpets, Chimes, and Song. Including songs by Vecchi, Handel, Schubert, Faure, Vaughan Williams, Paulus, Chilcott, Levine and Hogan
In Music's Voice From Poet's Pen - Fall 2012 - Featuring Madison's own harpest, Megan Sensa. Including Night, Sleep, Death, and the Stars by Gawthhrop, Harlem Songs by Gwyneth Walker and more.
Early Masters - Spring 2012 - Choral music by Haydn, Handel, Palestrina, di Lasso and others
Song of Canada - Fall 2011 - Featuring an authentic Fiddler
hope, faith, life, love - Spring 2011 - Featuring Faure Requiem
Collaborative performance with Celesti Sondato and Orchestra

Celebrating Connecticut's Composers - Fall 2010

The Shoreline Chorale - Choral Composition Competition
Steven Danyew, First Prize Winner, with More than heaven to Earth

African Celebration - Spring 2010
Wine, Sacred and Secular - Fall 2009